The garden consists of several sections.
The Garden Pond
is of natural origin and provides a habitat for various animals like ducks, fish, frogs and dragonflies. Different aquatic and marsh plants create lush vegetation. Woods like flowering cherry, shad-blossom and diverse rhododendrons skirt the shore.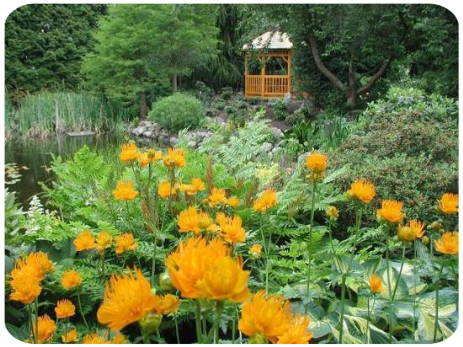 belongs with its canopy of deciduous woods and conifers to the older sections. A large proportion of our collection of about 250 different hostas is sheltered here, along with the various ferns, liliales (trillium), primroses and other rare shadow plants that enrich this part.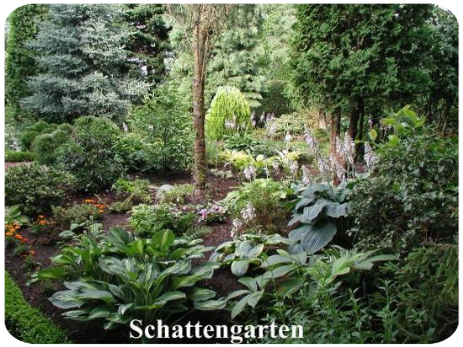 is the newest section and was a goat meadow up to 2002. This section houses the majority of our collection of about 500 peonies, as well as many flower bulbs, bushes and shrubs completing this area.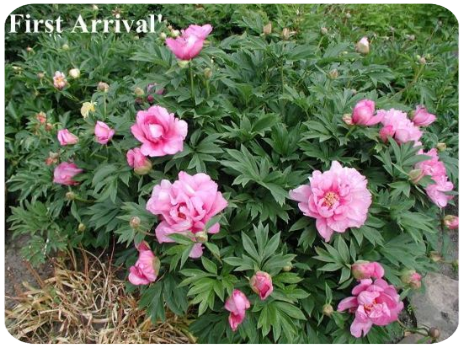 was set up in 1998 and is one of the most beautiful parts of the garden. About 40 different, extensively planted kinds of heath, joined by juniper, pine trees and other small woods, dominate the view. Due to the different leaf colourings of the heath in all shades of green, yellow and orange, the heath is attractive not only during the flowering time.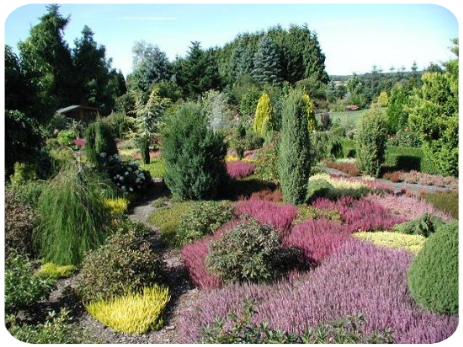 was set up in 2001. One hill consists of volcanic tuff, the other of limestone tuff. Edelweiss, gentian, saxifrages, primroses and other rare kinds of mountain flora grow especially well on these stones because they retain water and nutrients and release them slowly to the plants.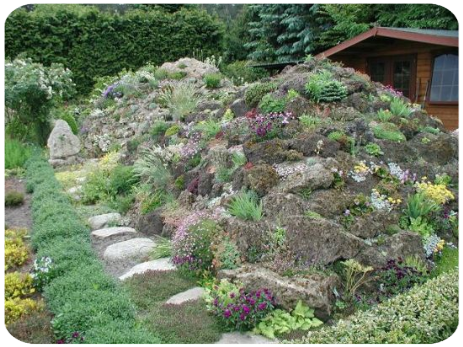 was formed in 1997 on an agricultural crop land. A closed pavilion inviting our visitors to linger and have a picnic is situated on a well-groomed lawn. This lawn contains and is surrounded by our collection of about 100 different magnolias. Different types and sorts of bushes and woods are planted around the lawn. Numerous roses also give off their scent here.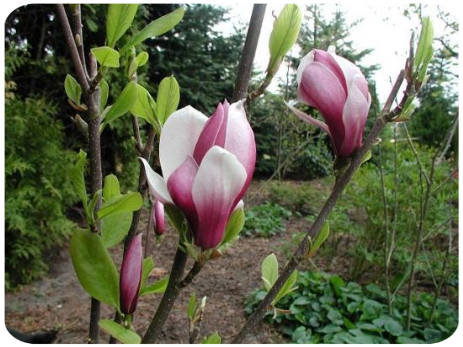 Every day from 10 a.m. to 6 p.m.
Admission
Visitors under 10 - admission free
Visitors from 10 to 17 - 2 EURO
Visitors, age 18 and over - 7 EURO
Telefon: +49 39775 20138
Telefax: +49 39775 26833
E-Mail:
info@botanischer-garten-christiansberg.de
Christiansberg 123
17375 Luckow